Helpful Resources
http://www.stillbirthday.com/  Support and resources for pregnancy loss at any stage
http://www.marchofdimes.org/  March of Dimes will send resource booklets at no cost to families about stillbirth, infant loss, and future pregnancies.
firstcandle.org A federal program to raise awareness and research about stillbirth and infant death.
griefwatch.com Offers help and print resources for many types of loss.
pregnancyafterlosssupport.com  blogs, resources all about pregnancy after loss
http://sufficientgraceministries.org/ This organization provides resources and ideas for perinatal hospice and will send families who have experienced loss a free Dreams of You book and handmade comfort bear.
http://aninchofgray.blogspot.com/2012/03/what-you-can-do-to-help-grieving-family.html A blog with a list of ways to help a grieving family.
Logistics
There is a group of photographers in Athens who are committed to photographing babies for families experiencing loss (whether the loss is before or shortly after birth).  They will also do maternity sessions if a family receives a fatal diagnosis. Contact Liz at 801-971-4565 or Julia at 740-448-7454.
https://www.odh.ohio.gov/vitalstatistics/vitalmisc/stilbrth.aspx  Go to the department of vital statistics to order a birth certificate for births 20 weeks gestation and after.  This is also where you order a death certificate.
Rock of Ages granite dealers may provide free headstones for infants.  Many crematories do not charge for infant cremations.  Funeral homes may be able to scan your child's hand and foot prints and send them to you.  They can also save a lock of hair for you.
You are legally allowed to take your child from the hospital to the funeral home if you so choose.
For health insurance billing purposes, your baby will only receive a bill if he or she was born alive, no matter how far along you were in pregnancy.  If your child lives for even a short while, he or she will have a social security number and will likely be billed separately.
Immediate List of Decisions to be Made (Taken from When Hello Means Goodbye: A guide for parents whose child dies before birth, at birth, or shortly after birth by Pat Schwiebert and Paul Kirk, published by Grief Watch, 2013)
This is a list compiled from parents who have experienced loss and will give families experiencing loss some things to think about as they have their child with them.
-hold the baby as much as you want, even just one more time
-dress the baby in a special outfit or wrap baby in a special blanket
-place a toy next to the baby
-save a lock of hair
-place a lock of your hair in the casket with your baby
-arrange for photographs (see logistics above)
-write a letter and place it next to your baby
-personally dress and groom your baby for burial
-drape a special quilt over the casket
-share a special reading at the memorial service
-save flowers and dry them for later
Helpful Print Resources and Books
When Hello Means Goodbye by Paul Kirk and Pat Schwiebert (The Birth Circle has several of these books on hand, please contact us as soon as you find out about your loss as this book is most useful right away, especially if you are experiencing a stillbirth.)
Tear Soup:  A Recipe for Healing After Loss by Pat Schwiebert and Chuck DeKlyen (A picture book for adults as much as for children in helping to understand the process of grief)
The Invisible String by Patrice Karst and Geoff Stevenson (A picture book for children so that they don't feel alone after losing a loved one)
Something Happened:  A Book for Children and Parents Who Have Experienced Pregnancy Loss by Cathy Blanford (Models a way for parents to talk with children about the death of their sibling)
We Were Gonna Have a Baby, but We Had an Angel Instead by Pat Schwiebert and Taylor Bills (A simple picture book for families to read together)
Couple Communication After a Baby Dies:  Differing Perspectives by Sherokee Ilse and Tim Nelson
Empty Arms:  Coping with Stillbirth, Miscarriage, and Infant Death by Sherokee Ilse
The One Year Book of Hope by Nancy Guthrie (Christian perspectives in the form of a devotional from a Christian writer whose two of three children died in their first year of life.)
Want to support families experiencing loss in southeast Ohio?
-Crochet or knit wraps for babies born too early to survive and donate to the hospital or Birth Circle
-Make matching bracelets for mom and baby (in pink or blue) and donate to the hospital or birth circle, or donate beads and supplies for volunteers to do so
-Donate your wedding gown to the birth circle to be made into multiple infant gowns for babies who have died
-Donate beautiful newborn clothing to the hospital for babies that have died
-Donate small stuffed animals to be given out at the hospital as perhaps a baby's only gift or to fill the empty arms of the baby's siblings and parents
-Make a financial gift to the Birth Circle for loss resources (babysitting during the support group, books for families who have experienced loss, and other needs) denoting "loss resources" in the memo
-Become a bereavement doula through stillbirthday.com
-Crochet or knit caps for babies that do not go the full length in the back.  Also, there is a need for extra small caps that again are shorter in the back.
Bereavement Doulas
Kailyn Browning, SBD
Certified Stillbirthday Doula
740-818-5039
Support for birth in any trimester and support in any outcome.
Support
Contact the Birth Circle to be connected with someone who has experienced loss or attend our monthly support group. The support group is held on the first Thursday of every month from 6:30-8:00 at Central Avenue Church, 73 Central Avenue, Athens. Childcare is available.
athensbirthcircle@gmail.com, Autumn 740-541-2041, Emily 740-808-2448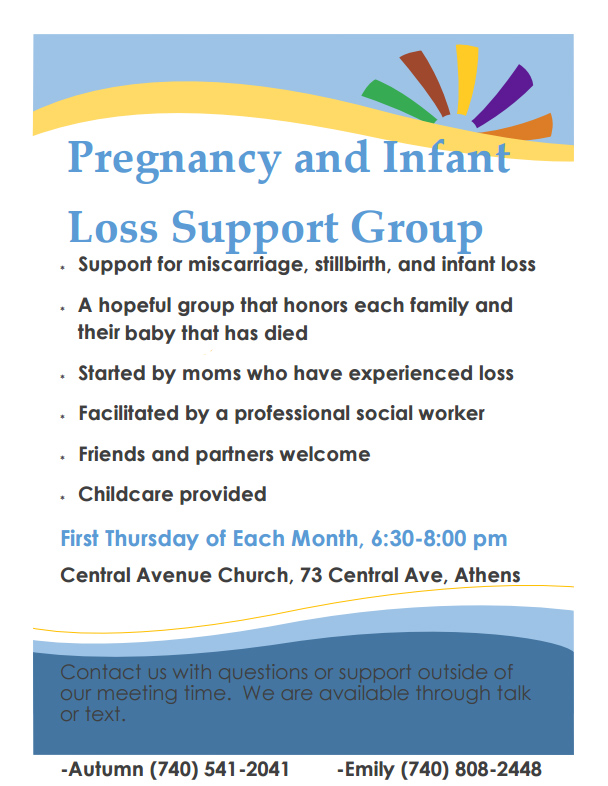 For remembrance wraps, quilts and bracelets at no charge contact Rachel Szostek 765.977.3817 or szostekrachel@gmail.com