Tomorrow we are gathering for our next monthly meeting, "Sharing Birth Stories".  We hope you will join us and share the story of your child's birth, your very own birth, or the birth of a grandchild.  Sharing and listening to these stories is such a great way to strengthen our bonds with one another and we hope that you will join us!
Our 4th Prepared Mommy Camp is coming up next month!  Please see below for information on how you can support this incredible program.  Contact me with any questions about the Camp or any of The Birth Circle programs.  Have a great day and we'll see you soon!
Warmly,
Executive Director, The Birth Circle
740-652-6262
0

At the Athens Public Library
Every year we dedicate one meeting to the sharing of birth stories. Whether your children were born last week or a decade ago, we invite you to share your story or just sit and listen to others. All backgrounds, experiences and choices are honored at all Birth Circle events.
All Birth Circle monthly meetings are co-sponsored by
the Athens County Public Library

0
00
TEEN & YOUNG MOM SUPPORT GROUP
This group for young moms began as a way to continue support after Prepared Mommy Camp. The group meets once a month. Please see our calendar for upcoming meetings and/or contact coordinator Amber Dellinger, athensbirthcircle@gmail.com, for more information.
Wednesday, May 25th, noon – 2pm
Richland Avenue Park, Athens, OH
From group coordinator, Amber Dellinger:
Let's meet at the park this month to let the kids play! I will also have something for all you mamas to help celebrate Mother's Day!!!
**DONATIONS NEEDED FOR OUR 4TH PREPARED MOMMY CAMP**
This June 20th-24th we are holding our 4th Prepared Mommy Camp thanks to support from the Athens Foundation.  This Camp is offered for free to pregnant women age 21 and younger, and provides a safe place where these young women can build their confidence as they learn more about healthy pregnancy, infant care and positive parenting.  The Camp also provides a place for them to build bonds of support with one another, which often last well beyond the week we spend together.
Many of the participants are from rural, low-income families where access to resources may be limited.  
We are hoping that with your help we can send them home with loads of supplies that will help improve the quality of life for them and their babies.  You can lend your support by donating products related to pregnancy and/or newborns (clothes, furniture, slings, diapers, nursing bras, etc.) which will go directly to our Camp participants.  For your donations, the Birth Circle will provide a receipt for tax purposes upon request.  We are expecting to serve 5 to 10 young moms and would be grateful for any quantity you can offer!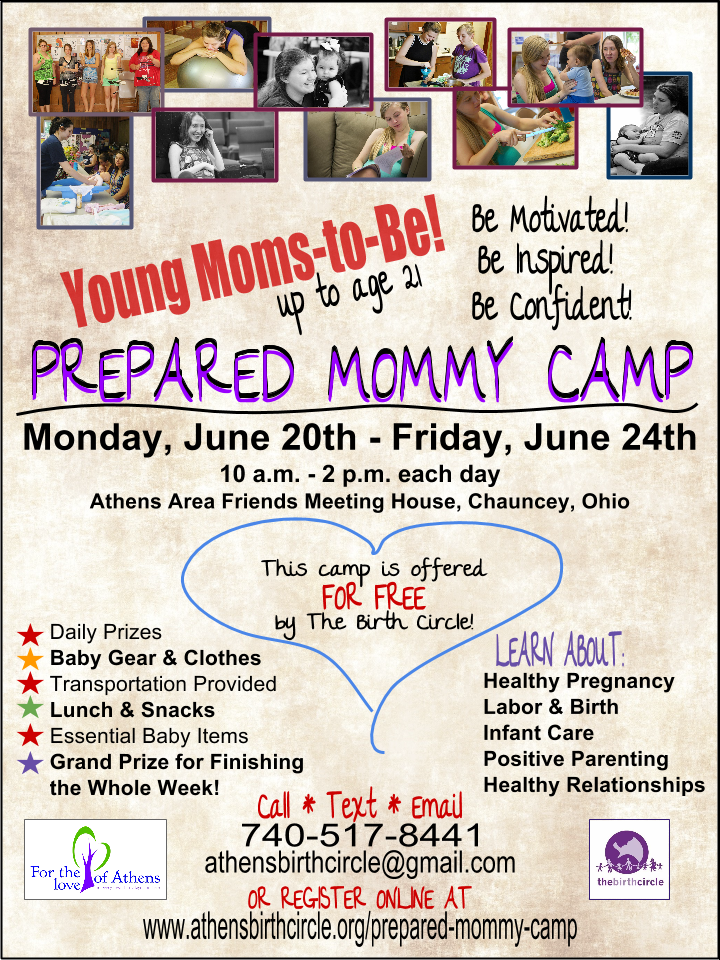 at the Athens Library's Kid's Section
Come join other parents, care-givers and children for two hours of fun, socializing and camaraderie.  All ages are welcome and we hope to see you there!
at the Central Avenue Church—73 Central Avenue in Athens
If you are in need of support because of a pregnancy loss or the loss of your child, you are welcome to join us every first Thursday of the month for this support group.  These meetings are free and facilitated by a professional social worker.  All family members, such as grandparents, siblings, aunts and uncles, as well as friends are welcome.  Childcare is provided.