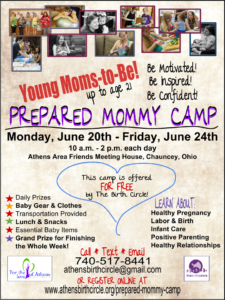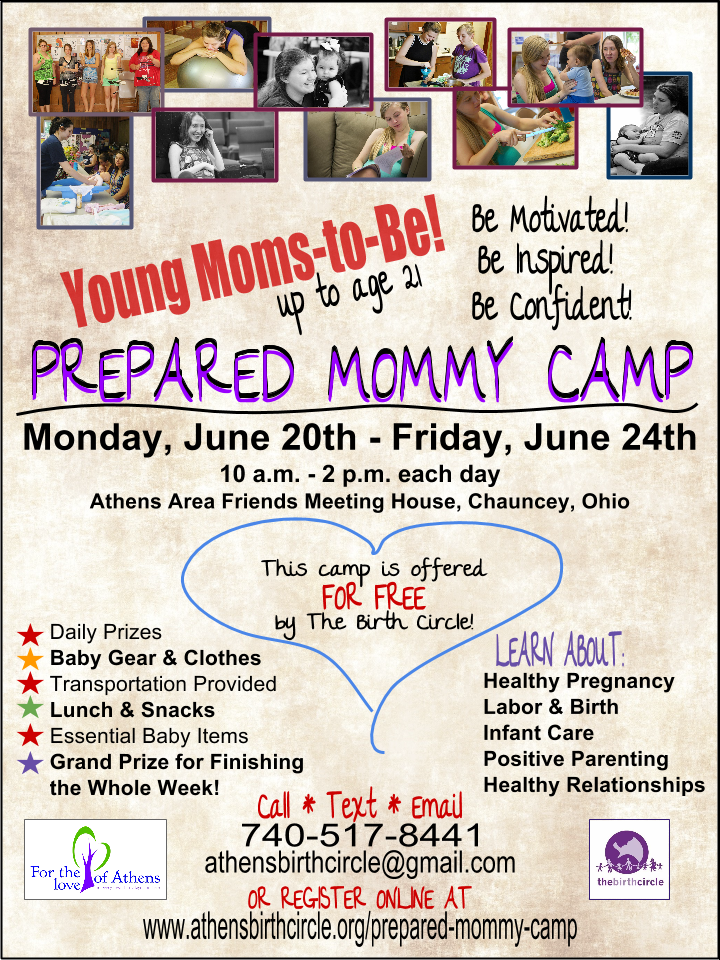 The 4th year of Prepared Mommy Camp was a success! The 2016 camp was held June 20-24th at the Athens Area Friends Meeting House in Chauncey, Ohio.
The Birth Circle strives to support teen and young moms-to-be in developing the skills to become confident and prepared parents. The five-day Prepared Mommy Camp is FREE thanks to generous support from the Athens Foundation. Participation includes daily prizes, lunch, essential baby items, transportation and childcare each day. In 2016, we partnered with the Athens City County Health Department to provide each participant with a free pack and play. Each mom-to-be this year also had the opportunity to tour the Birth Center at O'Bleness Hospital and participate in a full labor and delivery class with Cradled in Joy Birth and Parenting Education.
The intention of Prepared Mommy Camp is to share positive parenting skills and foster self-confidence, as well as help young moms build a long-term support network with each other and with more experienced parents in the community. Each day of Prepared Mommy Camp focuses on a particular topic: healthy pregnancy and relationships, birth and infant care, positive parenting, and planning for the future. Along with discussion of these topics, there will be hands-on activities facilitated by former teen moms and time for the young women to ask questions, discuss the topics and get to know each other. Each day we will also hear from a young mom who will share her story!
To enhance the knowledge each mother takes away from the camp, we provide materials for her to take home at the end of the week-long experience. A resource library of books and other media was given to each 2015 participant through a grant from Quidel Corporation of Athens. These materials will again be available in 2016 thanks to continued support from Quidel Corporation.
Prepared Mommy Camp accepts registrations from young moms up to age 21. Registrations from older moms-to-be will be considered if space is available!
For more information or to register, email athensbirthcircle@gmail.com, call or text 740-517-8441.
Each year, our local community has generously donated much-needed items to this free program. We will be accepting donations to Prepared Mommy 2017 as next summer approaches. We will expect up to 10 young moms, and would be grateful for any number of items you can offer. The following is a list of needed items and volunteer opportunities:
Products related to pregnancy and/or newborns (clothes, furniture, slings, diapers, nursing bras, etc.).
Snacks and breakfast items to have available during camp.
If you would like to volunteer your time, we are looking for help transporting participants to and from camp. We also need volunteers to pick-up meals from local restaurants and deliver them to camp.
If you offer pregnancy or baby-related goods or services (photography, art, clothing, etc), we are looking for donations to be used as prizes for the women at the end of their week of learning.
The Birth Circle is a 501-c-3 non-profit organization. We would be happy to send you an in-kind donation form for your taxes.
Click here to view or print the Prepared Mommy Camp Flyer 2016
***
***
***
***